Posted by Alayne Gardner-Carimi on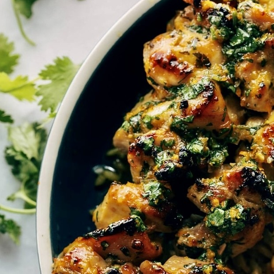 On the grill or in the oven, this recipe is a quick and easy way to change up chicken (or shrimp). Fresh, juicy, savory and oh-so-good!
Tags:

#balsamic, #chicken, #dinner, #fruity, #Gourmet, #grill, #madisonwi, #picnic, #shrimp, #vomfassmadison, #Wisconsin
Posted by Alayne Gardner-Carimi on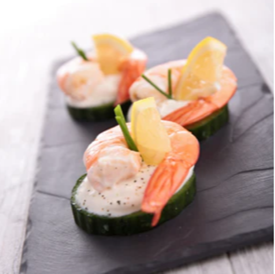 These beautiful bites make a light, fresh, and easy low carb appetizer.  Ingredients (makes about 48)1 lb cooked shrimp3½ oz vomFASS Chili Oil or Lemon Extra Virgin Olive Oil3½ Tbsp vomFASS Calamansi Balsam Vinegar3 Tbsp fresh dill, finely chopped 1½ tsp fresh minced garlic1 24-oz container full-fat Greek yogurt4 English cucumbers, cut into wheels1 bunch of chives, finely chopped1 cup fresh pinapple, cut into small wedgesLemon PepperSea Salt DirectionsMarinate the cooked shrimp in Chili Oil and Calamansi Balsam in a sealed plastic bag for 5-10 minutes.While the shrimp marinate, stir the chopped dill and minced garlic into the Greek yogurt until...