Posted by Alayne Gardner-Carimi on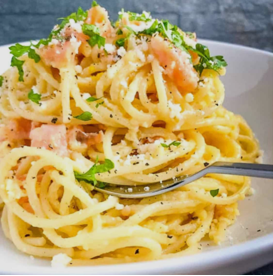 By substituting smoked salmon for the traditional bacon or pancetta, you can make this dish in 20 minutes as the salmon doesn't need to be cooked. Recommended pairing: Zarate Albariño—the perfect complement to the smoky and nutty complexity in this updated classic. Ingredients (4 servings)12 oz spaghetti or linguine3 eggs organic1 dash black pepper freshly ground1¼ cups Parmesan cheese finely grated, divided3 Tbsp butter unsalted1 Tbsp vomFASS Lemon Extra Virgin Olive Oil2 cloves garlic, peeled and chopped8 oz smoked salmon, roughly broken DirectionsPut the pasta on to cook in a large pan of lightly salted boiling water and cook as per...
Posted by Alayne Gardner-Carimi on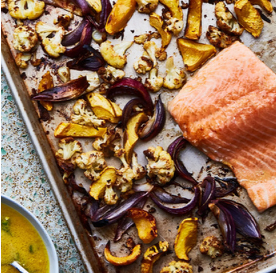 Spiking fresh orange and lime juices with a shot of vomFASS Forest Blossom Honey Balsamic Vinegar and Orange Extra Virgin Olive Oil gives the citrus flavor an extra kick to stand up to the rich fish and earthy vegetables.