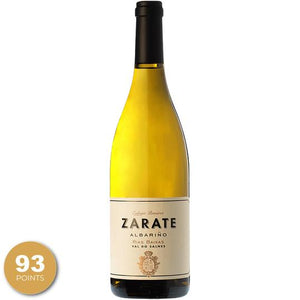 Eulogio Pomares, Zarate Albariño
*Available for in-store pickup only*
Made from 100% Albariño grapes, this Organic wine is packed with fresh fruit flavor and mineral notes and crisp acidity. This vivacious wine has a fresh, clean nose with fresh white fruit and citric notes.
Zarate is a family-owned estate located in the Spanish Rias-Baixas. The property obtained FULL ORGANIC certification after the 2006 harvest, as it did completely away with any use of chemical agents and /or pesticides, while at the same point protecting the surrounding flora and fauna. Zarate handcrafts dry, mineral, refreshing wines with ample capacity for cellar aging. "Zaraté Albariños are not only the best white wines of Galicia, but potentially in all of Spain." 

Food Pairings: Lighter meats, fish, and seafood sing with Albariño. Try it with ceviche, seafood risotto, oysters, mussels, and clams. Cheese Pairing: Soft cheeses like burrata, or semi-hard cheeses such as manchego, gouda and salty feta will be killer alongside this fresh, bright wine.
Origin: Rias-Baixas, Spain
*This product is available for in-store pick-up only*