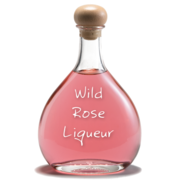 Wild Rose Liqueur
*This item available for pickup only.
This luxurious spirit with its unforgettable bouquet of fresh cut roses brings romance to your favorite cocktails. Delicate and concentrated on the palate, this liqueur has a gentle hint of rose petals and a slightly sweet finish.
Origin: Fougerolles — Haute-Saone — France 
ABV: 18% Vol.