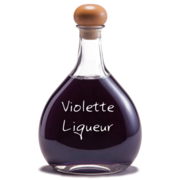 Violette Liqueur
*This item available for pickup only.
A pleasant purple in hue, this liqueur has a delicate aroma of violets. As you inhale, notes of cake frosting, sweet licorice, freshly cut grass come forward in a pleasing manner. The taste is smooth and sweet with a lingering floral finish.
Origin: Fougerolles — Haute-Saone — France
ABV: 25% Vol.