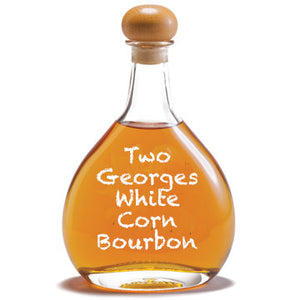 Two Georges White Corn Bourbon
*This item available for pickup only.
The Two Georges White Corn Bourbon is aged a minimum of 7 years and distilled in Indiana at a 164-year-old distillery that produces some of the best whiskeys in the USA. This is a high rye bourbon that uses white corn that brings a sweet balance to the pallet. This is a limited release product and is exclusive to vomFASS. Notes of biscuit, vanilla, and oak are present on the nose with vanilla, oak, spice, and caramel coming through on the palate with a medium finish and medium complexity. 

Origin: Indiana, United States
ABV: 40%
Mash Bill: 75% Corn, 21% Rye, 4% Malted Barley