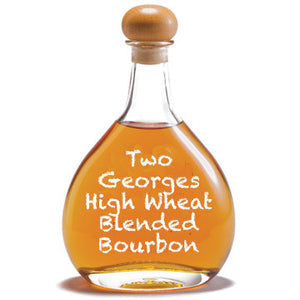 Two Georges High Wheat Bourbon
*This item available for pickup only.
Hailing from the heart of Kentucky, this wheated bourbon Has been expertly aged in a new charred Southern American White Oak barrel. The addition of wheat in this bourbon's mash bill in place of the  rye grain lends this bourbon a crisp and earthy grassy undertone that is heavily sought after by devotees of the "wheaters".  It has a long lasting oaky finish, along with many of the early flavors.  This expression showcases an excellent whiskey that can be consumed neat or slightly chilled with a single ice cube.
ABV: 40%
Origin: Kentucky