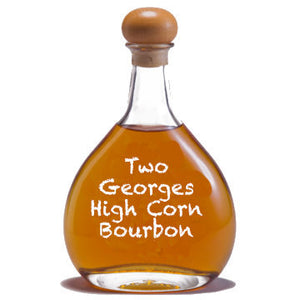 Two Georges High Corn Bourbon
The Two Georges line of American whiskey is a privately labeled handpicked line of whiskey that pays homage to two important figures in the history of American whiskey distillation. George Thorpe, a Virginia colonist and early investor in the American colonies, is thought to have been the first to distill spirits from native corn (circa. 1620), and George Remus a depression era lawyer cum gangster who kept the industry alive during prohibition. 

Hailing from the bourbon capital of the world, this high corn style of Kentucky bourbon is the first release in a series of privately labeled American whiskies. Hand selected by vomFASS for its unique qualities and mash bill, this bourbon is sweet and savory due to the high percentage of corn used in its production. This whiskey can be enjoyed neat or over ice, but it is equally suited for your favorite bourbon cocktail.
ABV: 40%
Origin: Kentucky, USA
Mash Bill: 82% Corn, 3% Malted Barley, 15% Rye
*This item available for pickup only.