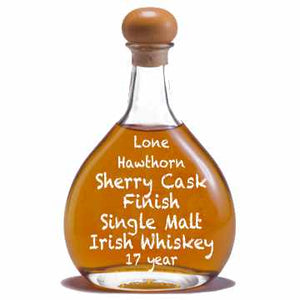 Lone Hawthorn Sherry Reserve Single Malt Irish Whiskey, 17 years
*This item available for pickup only.
This rare whisky spent its entire maturing period in former sherry casks. In the nose and on the palate, it is rich with vanilla, sherry, dark fruit, nutmeg notes with the typical sweetness from the sherry casks. The small batch was selected solely for vomFASS. An absolute rarity is this 17-year- old single malt and a must-have for whiskey lovers!
Origin: Ireland
ABV: 41%