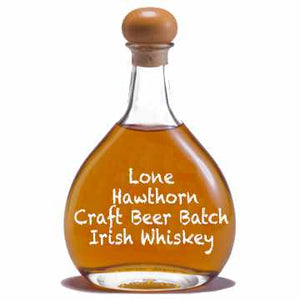 The Lone Hawthorn Craft Beer Batch Irish Whiskey
*This item available for pickup only.
A true wonder in the world of cask finishes, this small batch Irish malt is a result of a very special collaboration between the Teeling Whiskey Company and a local brewery. Former bourbon barrels were initially used to mature Irish Stout before the barrels were used to age the whiskey.  This results in wonderfully floral and fruity notes from the Stout that blend harmoniously with the malty sweetness of the whiskey. This must-have expression was also awarded the DLG gold medal.
ABV: 43%
Origin: Dublin, Ireland