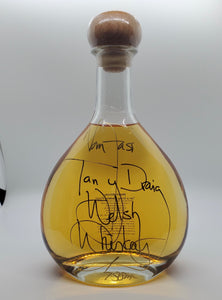 Tan Y Ddraig Single Malt Welsh Whisky
*This item available for pickup only.
Tan Y Ddraig translates as "until the dragon" giving a nod to the dragon which is the national symbol of Wales. Aged in refilled Buffalo Trace and Evan Williams Bourbon Barrels (Evan Williams is used because Mr. Williams emigrated from Wales) and then finished in Madeira wine barrels, this whisky has notes of vanilla and caramel with a spicy well-rounded finish and mouth feel.

ABV: 43%
Origin: Wales, UK
The Penderyn Distillery
The Penderyn distillery takes its name from the village in Wales in which it is situated. Penderyn uses the Faraday still, a special single pot still designed by Dr. David Faraday a descendant of the famous Victorian-era scientist Michael Faraday. This still allows their unaged whisky to enter the barrel at an industry high 92% alcohol which leads to the extraction of markedly different organic acids and esters than other single malts.