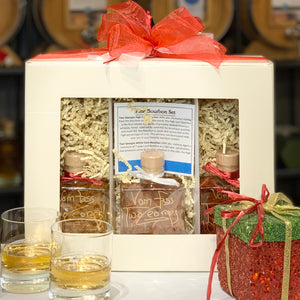 Premium Bourbon Set 2022
Bourbon is the original All-American whiskey. Set contains 3-200ml specialty Bourbons unique to vomFASS. By definition it must be made in the USA, with a minimum of 51% corn in the fermentation mash and aged for at least two years in new, charred, American oak barrels. With this set of premium vomFASS bourbons, one can explore and contrast the flavors of 3 high corn bourbons, as much as 82% corn in one of them! Discover the nuances of aging when comparing the 2 year bourbon with the 7 year bourbon. Where does the smoothness of aging intersect that of the sweetness of the higher percentage of corn in the mash bill? 
These expressions of whiskey are made to be enjoyed on its own in your favorite nosing glass, served either neat or with a single ice cube. Usually, for a bourbon to be considered a high corn expression it needs to carry a mash bill of more than 70% corn. 
The Two Georges White Corn Bourbon is aged a minimum of 7 years. This is a high rye bourbon that uses white corn that brings a sweet balance to the pallet. This is a limited release product and is exclusive to vomFASS. Tasting Notes: Notes of biscuit, vanilla, and oak are present on the nose with vanilla, oak, spice, and caramel coming through on the palate with a medium finish and medium complexity.
Origin: Indiana, United States
ABV: 40%
Mash Bill: 75% Corn, 21% Rye, 4% Malted Barley

Two Georges High Corn Bourbon is exclusive to vomFASS and is limited in quantity. This hand-selected whiskey is sweet and savory due to the high percentage of corn used in its production. It can be enjoyed neat or over ice, but it is equally suited for your favorite bourbon cocktail. Tasting Notes: Tasting Notes: Aromas of molasses, oak, and vanilla delight the pallet with a medium depth finish. 
ABV: 40%
Mash Bill: 82% corn, 15% Rye, 3% Malted Barley

Two Georges Tennessee Sour Mash is aged a minimum of two years and distilled in Tennessee. This high corn bourbon is produced using a sour mash process whereby some of the fermenting mash from one batch is used to start the fermentation of the subsequent batch.  This process, much like a sourdough starter, can produce a distinct flavor from yeast strains that have been kept alive for years and years. The high corn content lends a sweetness to the bourbon, the sour mash process lends a fresh bread aroma.  This may be young but it is complex in character. Tasting Notes: The high corn content contributes a sweetness to the bourbon, the rye lends a spicy note while the sour mash process brings a fresh bread aroma.
ABV: 40%
Mash Bill: 70% Corn, 25% Rye, 5% Malted Barley