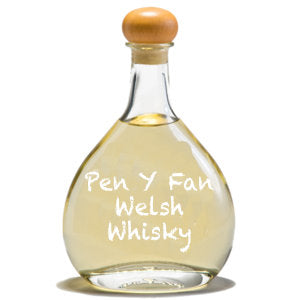 Pen Y Fan Welsh Whisky
*This item available for pickup only.
Hailing from Wales this expression of Welsh whisky is named after the highest point of elevation in Wales the Pen Y Fan rock towers. Pen Y Fan spends 100% of its time in refilled port pipes which is quite rare. This unreleased expression carries a matchless sweet and spicy flavor profile and finish that should be enjoyed with a splash of water or a single ice cube.
The Penderyn distillery takes its name from the village in Wales in which it is situated. Penderyn uses the Faraday still, a special single pot still designed by Dr. David Faraday a descendant of the famous Victorian-era scientist Michael Faraday. This still allows their un-aged whiskey to enter the barrel at an industry high 92% alcohol which leads to the extraction of markedly different organic acids and esters than other single malts.
ABV: 43%
Origin: Wales