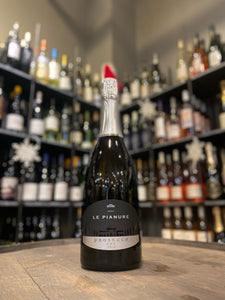 Le Pianure Prosecco
*Available for in-store pickup only*
Refined and elegant bouquet.
Taste with a marked consistency with the easy drinkability of Prosecco and a hint of sweetness. 
An excellent aperitif although it is also ideal throughout the meal being highly digestible. Our wine experts think this Italian Prosecco wine would be a match made in heaven with all vegetarian and fish-based dishes as well as appetizers and cured meats.
**THIS PRODUCT IS AVAILABLE FOR IN STORE PICKUP ONLY--CANNOT BE SHIPPED**