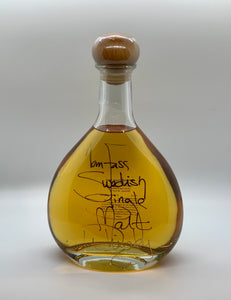 Mackmyra "Kungstorv" Peated Single Malt Swedish Whisky
*This item available for pickup only.
In Swedish, "Kungstorv" means "king's peat" and perfectly describes this single malt!  This specially selected whisky from the Mackmyra Distillery is a sweet and smoky expression comparable to an Islay Scotch.  Branches of juniper berries are added to the peat smoke to create a subtle sweetness not found in typical peated malts.  Aged in Swedish Oak barrels, this whisky has notes of vanilla, oak and juniper with a smoky, smooth finish.
ABV: 47.4%
Origin: Sweden