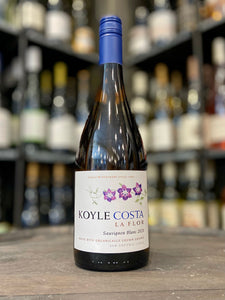 Koyle Costa La Flor Sauvignon Blanc 2020
*Available for in-store pickup only*
Created from hand-harvested organic grapes, grown with a biodynamic approach 7 miles from the coast of Pacific Ocean of Chile, Koyle Costa La Flor Sauvignon Blanc is vibrant and energetic with intense, juicy flavor. This unoaked wine has fruity aromas of fresh cut grass, summer peach, and ripe papaya with a silky, lively, dry-yet-fruity light body. It finishes with lychee, diced green pepper, and passion fruit. Taste the goodness that comes from treating the land and its bounty well.

FOOD PAIRINGS
An excellent pairing with seafood, it is featured in DelecTable's Smoke and Fire sashimi course. It's also delicious with lighter vegetarian and poultry dishes.
ORIGIN: Chile
ABV" 12.5%
*This product is available for in-store pickup only.