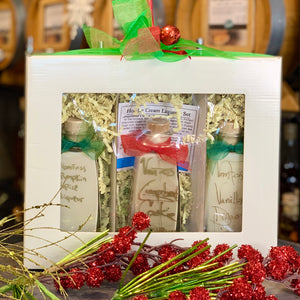 Holiday Cream Liqueur Set
Ginger, Cinnamon-Nutmeg-Clove, Vanilla all wrapped up in a pretty bow. Enjoyed in coffee, on their own, with ice as an after-dinner drink or drizzled over ice cream and even baked goods this liqueur set is D-R-E-A-M-Y.

Pumpkin Spice Cream Liqueur: is the perfect accompaniment to coffee or hot chocolate on a crisp day. This seasonal treat blends warm, autumnal spices with rich flavors of pumpkin, real Wisconsin cream and Puerto Rican rum. This liqueur is made with all-natural flavorings and without artificial colors. 
Gingerbread Cookie Liqueur: Organic ginger and a proprietary blend of spices are carefully mixed with premium Puerto Rican rum and Wisconsin cream to make this sweet spicy and creamy liqueur. 
Vanilla Dream Liqueur: If you love vanilla, this gorgeous cream liqueur is definitely for you. Enjoy it solo, in your coffee, over ice, or mixed with one of our fruit liqueurs. Also, a dash of vomFASS Styrian Pumpkin Seed Oil in this liqueur is great!