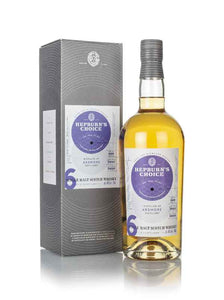 Hepburn's Choice Ardmore 6-year (Highland)
*This item available for pickup only.
Single malt Highland Scotch whisky, distilled at Ardmore in 2013 and in bottled in 2020. This whisky spent its six-year maturation in two wine casks, imparting a tropical fruit depth to this peaty Highlander.
On the nose, it is complex yet not overwhelming. Peat and rainwater with a light touch of gunpowder hit a perfect center spot on the back palate ending with a unique and complex finish.
Size: 700ml
Origin: Scotland
ABV: 46%