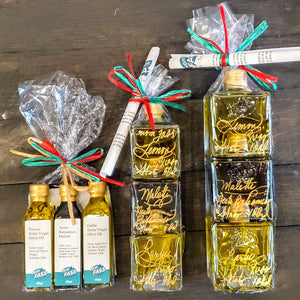 Flavors of Italy
Deeply satisfying comfort food is the hallmark of Italian cuisine. Many vomFASS products can be used as key components for Italian cooking; but this particular set is uniquely designed to up your game. Whether dressing pasta or a salad, these two oils, Lemon and Garlic, will bring the flavors of Italy to your home. The set also includes the incredibly versatile Aceto Balsamico di Maletti. After just one taste, you'll want to drizzle it on just about everything.
Aceto Balsamico Maletti
A true work of art, Maletti Aceto Balsamico is patiently barrel aged. During this time slow evaporation creates a rich natural reduction. Maletti is a viscous vinegar with a rich taste of figs and dried cherries finishing with a strong molasses note and a hint of oak. A perfect complement to fresh fruit, aged cheeses, and ice cream. Try a few drops on seared tuna or flank steak for a refined treat.

Extra Virgin Olive Oil Lemon
Our Lemon Extra Virgin Olive Oil is bright with lemon citrus flavors. This oil is perfect for finishing all manner of fish dishes, from scallops and prawns to salmon and sea bass. A few drips of Lemon Extra Virgin Olive Oil will make it taste even better. How about drizzling over steamed broccoli, roasted cauliflower, or sauteed asparagus? Lemon Extra Virgin Olive Oil is perfect for salads too.

Garlic Extra Virgin Olive Oil
What is not to like about our Garlic Extra Virgin Olive Oil? A robust garlic flavor, full and mellow at the same time. This is the perfect oil for pasta, rice, and even mashed potatoes. Quick and easy garlic bread, just drizzle garlic oil on sliced French or Italian bread and toast in the oven. Finish your next chicken dish with a generous amount of this oil for a treat. Your salads will never be the same if you use our Garlic oil as the base for your dressings.