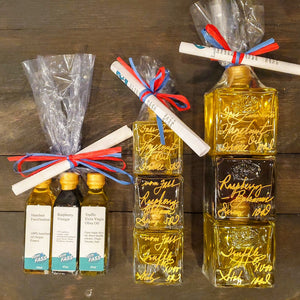 Flavors of France
The crown jewel of the culinary world, France continues to challenge good cooks around the world. This carefully curated set features exceptional products that will enhance any cook in their quest to create those sophisticated French flavors. Two excellent oils, Truffle and Hazelnut, are joined by the very versatile Raspberry Balsam. Vive la vomFASS!
FassZination Hazelnut Oil
Deep gold to pale amber in color this unfiltered oil is a true delight. With a strong nose of hazelnuts and a rich taste to match the possibilities are endless. All of your steamed or lightly sauteed green vegetables can be greatly enhanced by just a drizzle of this oil. Amazing in salad dressings try pairing Hazelnut Oil with any of our fruit vinegars, it is exceptionally good with our Forest Raspberry Waldburg Star vinegar. So good in fact that even children will be asking for salad. But don't limit yourself, try this oil as an incredibly healthy natural topping for ice cream or custard-based deserts.

Truffle Extra Virgin Olive Oil
The most elegant of finishing oils. With its deep earthy aroma, and full taste to match. Our Truffle Extra Virgin Olive Oil uses a blend of both white and black truffles to create a complex web of flavor.
Traditionally used as a finishing oil for pasta or risotto no gourmet kitchen would be complete without this oil. The perfect pair for many cheeses; Emmentaler, sheep's milk bleus, creamy goat cheeses all become so much more with just a drop.

Cherry Balsamic Vinegar
This fruity-sour creation from the company's own vinegar factory has a dark red color and a fine fruity aroma of sour cherries. On the palate it is very fruity with a light acidity and pleasant sweetness.
To savor true rich flavor of Cherry Balsamic Vinegar, combine one-part vinegar to seven parts of mineral water, or sparkling wine.