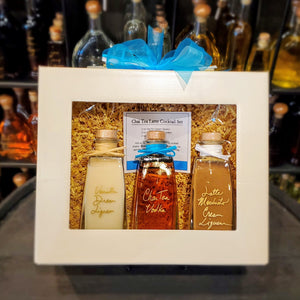 Chai Latte Martini Set
The flavor profile of Indian spiced tea has become the darling of modern imbibers and our Chai Vodka is the perfect expression of that popular taste. Combined with creamy Vanilla Dream and the mocha coffee flavors of our Cafe Macchiato, this custom creation combines everyone's favorites into a "must have" cocktail. Recipe 2 oz Vanilla Dream liqueur 2 oz Cafe Macchiato liqueur 2 oz Chai Tea Vodka Add all ingredients and ice into a cocktail shaker. Shake and strain into a glass with ice, garnish with a dash of cinnamon or nutmeg.

*This item available for pickup only.