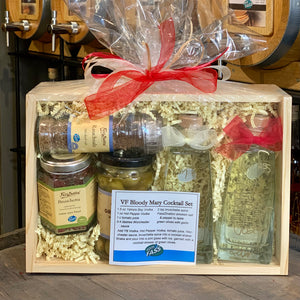 Bloody Mary Set
The perfect Bloody Mary has well-rounded flavor. With enough heat and octane to get your engine started, it's a great way to start a day of festivities.
Grab some tomato juice, our vomFASS Bloody Mary Cocktail Set includes the rest of the fixings:
Premium Vodka: An exceptionally smooth spirit distilled from American grains and apples. Definitely at home on the "top shelf."
7-Pepper Vodka: This vodka is masterfully created by steeping seven different peppers. This creates a full depth of natural flavors found nowhere else. The spiciness provides a natural pairing with all manner of grilled foods.
Olives: Crunchy and flavor packed, our green Calcidica olives from Italy are delicious as appetizers, in salads, on pizza, in pasta dishes, or with seafood or cheese, as well as Bloody Marys!
Bruschetta Spice Blend: Round out your tomato juice, sprinkle on pizzas, ciabatta, focaccia, or on any Mediterranean dish. It is also ideal to refine dips or salad dressings. 
Smoked Salt: Add flavor to the rim with this pure sea salt from the Dead Sea, which we refined according to a traditional recipe from the Vikings. It gets its intense taste from being gently cold-smoked over hickory wood. A successful composition that adds a rich, smoky flavor to poultry, grilled meat, and fish.