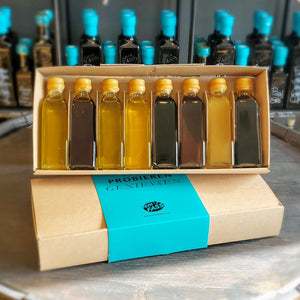 Best of Set
A beautiful collection of vomFASS favorites, curated to suit both the amateur cook and the professional chef. Four oils; lemon, pumpkinseed, garlic and Spanish Don Carlos along with four vinegars; Star Forest Raspberry, Star Date, Calamansi and Aceto Balsamico Platinum to be enjoyed individually or paired for vinaigrettes, this collection is the best of the best.

Lemon Extra Virgin Olive Oil Delicious, Taste of Fresh Lemons- this extra virgin Lemon Olive oil is a present to the palate. Excellent on salads, instead of butter for starchy food like noodles or rice, tossed with steamed vegetables, or on quesadillas with shrimp or fish! Try a little in your hummus recipe, or pasta salad...

Styrian Pumpkin Seed Oil This "black gold" is a genuine rarity, produced from the first pressing of skinless grown pumpkin seeds in the south of Styria, Austria. Try on roasted vegetables or ice cream.

Garlic Extra Virgin Olive Oil Our favorite garlic oil is suitable for refining salad and pasta. Just add a dash and toss in cooked pasta - the noodles won't stick together, and the delicate garlic aroma will make your meal mouth-watering.

"Don Carlos" Extra Virgin Olive Oil Only first- class, organically grown Andalusian olives from the varieties Picuda, Hojiblanca and Picual are used in the production of this cold-pressed Spanish olive oil. It stands out due to its golden yellow color and the delicate balance of fruity, grassy and nutty notes.

Star Forest Raspberry Vinegar Lovingly created in our own vinegar factory, this premium vinegar exhibits a fine and fruity taste, and is the result of ideal ripening conditions and fruit selection. Use for a special touch to desserts, meat dishes or as the base for non-alcoholic aperitifs.

Date Balsamic Star Rich fruit aromas , pleasant acidity with a beautiful thick viscosity make this a perfect base for salad dressings, tomato sauces and desserts! Try a drizzle over fruit...

Calamansi Balsam Vinegar Calamansi, ripened in the Philippines and refined with distilled vinegar and cane sugar from Paraguay, are the basis of this unique vinegar. Bitter and acidic with hints of mint, this light amber-colored balsam can be used not only in salad dressings and sauces, but also as an aperitif.

'Platinum' Aceto Balsamico Dark brown, nearly black - this balsamic vinegar seems to cuddle up to delicate ingredients. Its living cultures are saved on production. Fruity, richness and a fantastic full flavor based on a years old traditional aging program.