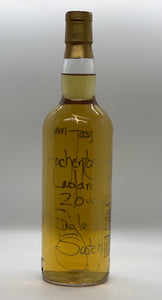 Auchentoshan Lowland Single Malt Scotch, 20 year
*This item available for pickup only.
A rare and fine Auchentoshan, this single malt does not overwhelm by its opulence but rather captures the whiskey lover with its mature texture, fine fruit, hints of malted barley and great length.  Complex and fascinatingly pure.  Aged for 20 years in oak barrels
ABV: 43%
Age: 20 years
Origin:  Scotland
Auchentoshan Distillery
Auchentoshan Distillery is one of only three active Lowland distilleries, and, like other Lowland whiskies, is triple distilled. Rumor says it was started by settlers from Ireland (1823) driven from their homes by famine and that they brought the triple distilling custom with them. The distillery sits just north of Glasgow.