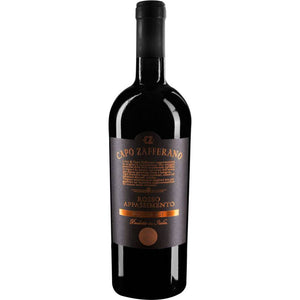 2019 Capo Zafferono Rosso Appassimento;
*Product available for in-store pickup only*
This wine is a full-throttled appassimento blend (Merlot, Negromaro and Primitivo) having plums, black cherries, cinnamon and raisins on the nose. It's medium-full body is pleasant, silky and slightly spicy on the palate with a very long finish. Its has lower tannins but nice acidity to keep the palate buoyant and food friendly. It pairs nicely with rich red sauced Italian fare, beef and lamb dishes.
Origin: Pulgilia, Italy
*This product is available for store pickup only, not available for shipping.