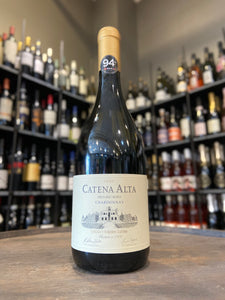 Catena Alta Historic Rows Chardonnay 2020
The Catena Alta Chardonnay presents an intense greenish-yellow color. The nose offers ripe white fruit aromas such as pears and peaches that are interwoven with delicate citrus and floral notes, such as Jasmine. The palate shows rich and concentrated ripe pear, apple and apricot flavors with a light note of minerality. The wine finishes long and complex with crisp, mineral acidity.
The Catena Alta Chardonnay is produced from two of the Catena family vineyards - Adrianna, at almost 5,000 feet elevation and Domingo, at 3,700 feet elevation. The Adrianna vineyard's pebble covered soil and cool climate are ideal for growing Chardonnay. The fruit from Adrianna has a purity of flavors and a minerality that is particular to this vineyard and cannot be found anywhere else in Mendoza. Meanwhile, the sandy loam soils of the Domingo vineyard contribute white stone fruit and good acid balance. This Chardonnay is 100% barrel fermented  in French oak.
Origin: Mendoza, Argentina
ABV: 13.6%
THIS PRODUCT IS AVAILABLE FOR IN STORE PICKUP ONLY--CANNOT BE SHIPPED.