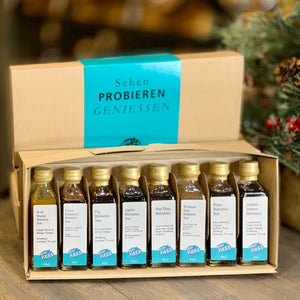 Star Fruit Balsamic Set
This 8 piece set includes a tempting variety of internationally renowned and award winning vomFASS star fruit vinegars. Our star vinegars are more fruit forward and thicker than regular vomFASS fruit vinegars. These vinegars are the ideal choice for a panoply of vinaigrettes and bring just the right hint of brightness to sauces, roasted vegetables and homemade condiments. This wide variety encourages culinary adventures!  

Wild Mango Balsamic Star: perfect for refining green salads, meat or fish dishes or as base for your next barbecue sauce. A wonderful, exotic addition to desserts and great as the basis for non-alcoholic aperitifs. Sugar and mango puree that made this specialty are from a fair trade organization. The mangos for our Wild Mango Balsamic Star are "Carabao" and "Picu" mangoes, both grown in the Philippines.
Forest Raspberry Balsamic Star: It's time to re-discover the intensive and unique taste of forest raspberries. The wild-growing forest raspberries used for our Star are plucked by hand, collected, and then carefully processed. Our Forest Raspberry Balsamic Star is refined with natural forest raspberry juice concentrate -- adding a rare aroma and an unforgettable taste experience.
Fig Balsamic: Fig trees are the oldest crop plants to be domesticated by mankind and have always played a major role in our history. vomFASS has created this creamy fig delicacy to complement a cheese plate or to refine a variety of sauces and cuisines.
Apple Balsamic Star: the pinnacle of cider vinegars. Barrel-aging high in the Alps gives this vinegar its rich flavor, deep, golden hue, and mild acidity. The sweet, concentrated flavor is harmonious in taste and redolent of a natural apple. Use as a tangy glaze for oven-roasted vegetables, chicken, or duck or as a dipping sauce for a juicy pork roast. Also great as a base for non-alcoholic aperitifs.
Star Date Balsamic: Because dates only ripen at temperatures between 87°-96° F, the raw substance for this balsamic specialty comes from the Near East, where the "real" date palm originates and the best quality of fruits are produced. The vinegar obtained from date wine is enriched with date juice concentrate until its acidity level is only 3% -- a unique product that need not fear comparison with the matured Aceto Balsamicos!
Williams Pear Balsamic Star: This special star is produced from the famous Williams Christ pear variety. The wonderful creamy and fruity taste is delicious with nutty salads or as a dip with cheese.
Plum Balsamic Star: Features a full-bodied aroma of ripe plums. This sweet sensation is refined with concentrated plum juice as well as plum purée and impresses with its full-bodied flavor.
Maletti Bianco Balsamic: The fruity sweetness of ripe grapes blended with a light acidity serves to define the character of this specialty. Perfect refinement for all appetizers, fruity grill marinades, or salads.  Outstanding as a bright, sulphur-free alternative to our Aceto Balsamico or as a splendid dressing when mixed with olive oil.