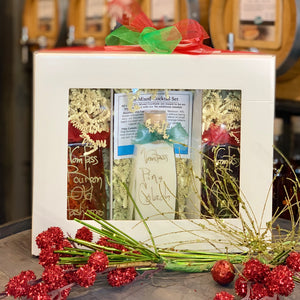 Pre-Mixed Cocktail Set
All our Pre-Mixed Cocktails are meant to be enjoyed straight or with ice.  No additions needed.
Bourbon Old Fashioned: Made by blending a small batch bourbon whiskey with angostura and orange bitters and natural cherry juice before refined with pure cane sugar, this classic cocktail is sure to please whether enjoyed alone in your home while relaxing or at your next gathering.
Piña Colada: Need a vacation? This fantastic cocktail liqueur is designed to make your next tropical getaway a simple one. Just add ice and a paper umbrella! This delicious sensation is handcrafted in vomFASS's very own liqueur manufactory in southern Germany.
Sour Cherry with Vodka: With a base of premium vodka, this bright and tangy cherry liqueur works just as well as an ingredient in a wide array of cocktails as it does on its own, served over ice.