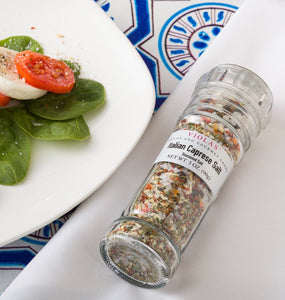 Violas' Italian Caprese Salt
This Italian blend will add the perfect touch to your caprese salad. Our Mediterranean salt blend has a deliciously intense taste of tomatoes and is also a real treat in herbal dips, Mediterranean casseroles, tomato sauces, cream cheese, salads or tomato and cheese bread. 
Ingredients: Sea salt, black pepper, onion, tomato, paprika, garlic, basil, parsley, thyme, oregano, chili.