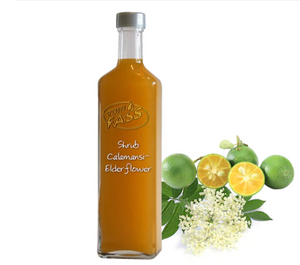 Calamansi-Elderflower Shrub
Bursting with fresh fruit and floral flavors, our Calamansi-Elderflower Shrub adds a refreshing burst of flavors to cocktails and mocktails, fruit salads and more! Made with our very own Calamansi Balsam, this innovative creation will be the secret ingredient most used in your beverage and culinary delights. 
Make up a pitcher for the friends or family today. Great with still or sparkling water.
Shrub is an old Arabic word related to the Arabic word "sharba", which means syrup. Shrub is the name given to fruit syrups with a vinegar basis. This is a trendy and innovative product in the market.