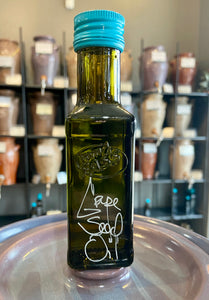 Grape Seed Oil
Our filtered Grape Seed Oil is perfect for pan-frying fish and as a subtle dressing for salad greens. In addition, use this oil as a delicious base for creating marinades and sauces flavored with fresh herbs.
The oil of dried grape seeds creates a delicate taste and a slightly sweet aroma, ideal for frying meat and seafood. Our oil does not contain any artificial colorants, antioxidants or food additives.
Pairings: Any vomFASS fruit balsamic vinegar.
Special Diet: Vegan, Produced without gluten containing ingredients**In spite of careful control, we cannot guarantee that our products made without gluten-containing ingredients have not come into contact with wheat during the production process, Vegetarian, cholesterol-free.