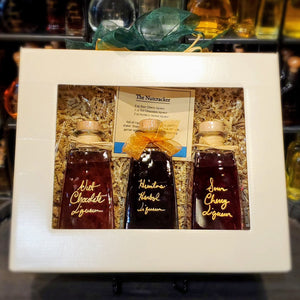 The Nutcracker
This tasty cocktail is sure to become new holiday tradition for many. The cherry, hazelnut, and holiday herbs in this mix will conjure up old feelings of holiday happiness.

2 oz Sour Cherry liqueur
2 oz Nut Chocolate liqueur
2 oz Hunter's Herbal liqueur

Add all ingredients and ice into a cocktail shaker. Shake and strain into a glass with ice, garnish with a dash of cinnamon or nutmeg.

*This item available for pickup only.