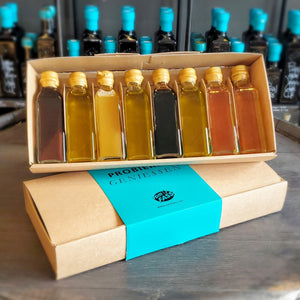 Salad Dressing Set
Here's a sampler set for the salad aficionado. Four of our favorite oil & vinegar combinations. Combine as recommended or let your imagination be your guide!
Star Date Balsamic Vinegar
Within a very short time, the Star Date Balsamic has developed into the bestseller. The vinegar obtained from date wine is enriched with date juice concentrate until its acidity level is only 3 % – a sweetness that can be compared with the matured Aceto Balsamico!

Orange Extra Virgin Olive Oil
The aroma of ripe oranges gives this olive oil its fruity taste and makes it particularly suitable for enhancing poultry dishes, fish and salads.
Calamansi Balsamic Vinegar
Calamansi, ripened in the Philippines and refined with distilled vinegar and cane sugar from Paraguay, are the basis of this exotic vinegar. Bitter and acidic with hints of mint, this exotic, light amber-colored balsam can be used not only in salad dressings and sauces, but also as an aperitif.
Basil Extra Virgin Olive Oil
Fresh basil, a fabulous compliment to summer times... For tomato salad and lettuce, for marinating vegetables or just as a little secret for pasta. The elegant flavor of fresh basil gives this oil an inviting aroma.
Star Forest Raspberry Vinegar
Lovingly created in our own vinegar factory this premium product exhibits fine and fruity taste is the result of ideal ripening conditions and fruit selection. Use for a special touch to desserts, meat dishes or as the base for non alcoholic aperitifs.
Lemon Extra Virgin Olive Oil
The cold pressing of selected olives and fresh lemons produces a refreshing oil specialty, which is excellently suitable for fish dishes.
Grape with Ginger and Lemon Balsamic Vinegar
Ideal for marinating or adding flavor to fish and poultry. Use sparingly in green salads. Our tip: Fresh cucumber salad with Ginger-Grape and Lemon Balsamic, seasoned with a touch of salt and white pepper. Tastes a bit like ginger-ale when added to mineral water— try it as a digestif!

Ginger Sesame Oil
This fine golden oil is a lightly toasted sesame oil with hints of ginger flavor. The flavors are in perfect harmony for marinades and salad dressings. The sesame is pronounced but not over powering and the ginger notes on the finish are of just the right intensity . Try this oil for your next stir fry or for a real treat for your taste buds add a tablespoon or two to rice or pasta.