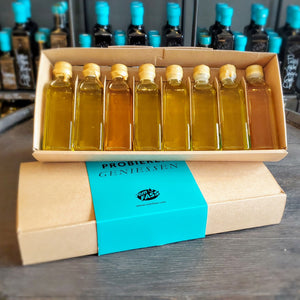 Infused Olive Oil Set
This is the perfect "sample" set for any good cook eager to expand their cooking repertoire. Eight of our most popular extra virgin infused oils will raise the bar for any home cook, bringing that illusive "next level" flavor to all of their culinary creations.

Garlic Extra Virgin Olive Oil Our special garlic oil is suitable for refining salad and pasta. Just add a dash to cooked pasta - the noodles won't stick together and the delicate garlic aroma will give your meal a special note.

Lemon Extra Virgin Olive Oil The cold pressing of selected olives and fresh lemons produces a refreshing oil specialty, which is excellently suitable for fish dishes.

Porcini Extra Virgin Olive Oil Much like the smell of a sparse forest in early autumn. Our oil mixture on basis of extra virgin olive oil with natural porcini aroma lightly enhances when drizzled on pasta, egg dishes, risotto as well as sauces and starters. The delicate aroma develops at its best, if the oil is added just before serving meals.

Basil Extra Virgin Olive Oil Fresh basil, a fabulous compliment to summer times... For tomato salad and lettuce, for marinating vegetables or just as a little secret for pasta. The elegant flavor of fresh basil gives this oil an inviting aroma.

Jalapeno Extra Virgin Olive Oil An exciting product with a fiery and fruity taste of the jalapeno. Perfect for marinating meat, drizzling over pasta and adding a kick to vegetables.

Orange Extra Virgin Olive Oil The aroma of ripe oranges gives this olive oil its fruity taste and makes it particularly suitable for enhancing poultry dishes, fish and salads.

Truffle Extra Virgin Olive Oil This distinguished oil is much appreciated by gourmets. Adding just before serving meals will gives sauces, starters, noodle and rice dishes, risotto or eggs a marvelous rich earthy taste.

Red Pepper Extra Virgin Olive Oil This virgin olive oil has a very fruity nose at first developing to a sharp spiciness on the palate. It is an excellent oil for flavoring pizza, pasta dishes and vegetables. To retain the aroma of red pepper do not overheat this oil.