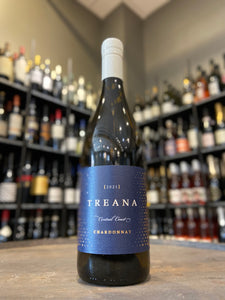 Treana Chardonnay 2021
This Chardonnay is a beautiful, lush white wine that displays aromatics of stone fruit and fresh honey that continue to the palate with bright flavors of Meyer lemon, fresh peach, toasted caramel and orange blossom. The finish has a lovely minerality and a touch of vanilla which perfectly rounds out the wine.
Treana 2021 is a blend of two fermentation styles - 65% of the juice was barrel fermented while the other 35% was fermented in stainless steel. During the first three months, the barrels were stirred monthly to add to the creamy nature of the wine. The barrels used offer a distinctive nuance to this wine. They are toasted at lower temperatures for longer periods of time, resulting in the creamy caramel flavors that integrate well with the fruit and acidity of the wine.
Origin: Pasos Robles, CA
ABV: 14.5%
THIS PRODUCT IS AVAILABLE FOR IN STORE PICKUP ONLY--CANNOT BE SHIPPED.