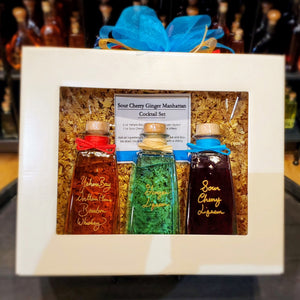 Sour Cherry Ginger Manhattan
One of the true classic cocktails, dating back to the 1870's, the Manhattan has been updated, bringing it squarely into the 21st century. Our Northern Plans Bourbon Whiskey provides the perfect foundation for this new classic. Sour Cherry and Ginger liqueurs add just the right kick, making this Manhattan a welcome addition to your cocktail repertoire. 2 oz Northern Plains Bourbon 1 oz Sour Cherry Vodka 1 oz Ginger liqueur 3 dashes bitters Add all ingredients into a shaker. Stir with ice and double strain into a martini glass, garnish with a cherry.

*This item available for pickup only.