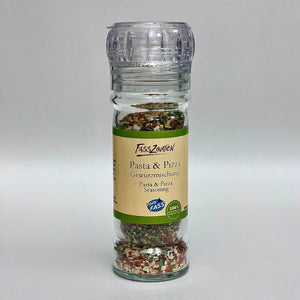 Pasta & Pizza Seasoning Grinder
Our Pasta & Pizza spice blend brings the taste of Italy into your kitchen! Our Mediterranean blend refines tomato sauces, pasta, vegetable dishes and pizza.  This seasoning is part of our exquisite FassZination product line and are characterized by a particularly high standard of raw ingredients and production.
Ingredients: garlic, chilies, peppers, onion, basil, oregano, parsley.