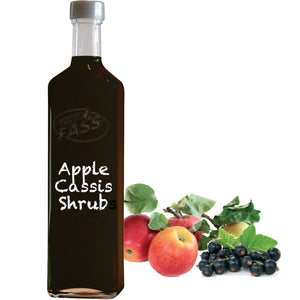 Apple Cassis (Black Currant) Shrub
Bursting with fresh and fruity flavors, our Apple-Cassis Shrub will add a refreshing splash to your taste buds. Our house-made shrub is a wonderful combination of fruity, aromatic apples and wonderfully ripe blackcurrants and is perfect for refining salad dressings or enjoyed mixed with Prosecco.
Shrub is an old Arabic word that means "to drink". It is related to the Arabic word "sharba", which means syrup. Shrub is the name given to fruit syrups with a vinegar basis. This is a trendy and innovative product in the market. 
Produced exclusively by vomFASS in Germany