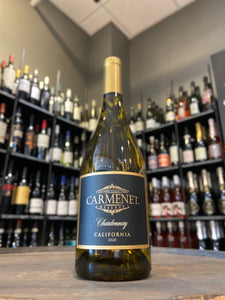 Carmenet Chardonnay 2020
Light gold color. Smoky aromas and flavors of dark roasted nuts and herbs, grilled pineapple, and honey butter with a silky, bright, fruity medium body and a silky, breezy finish with notes of apple tart with whipped cream and praline and a suggestion of oak flavor. An oaky Chardonnay for carefree sipping.
Origin: Sonoma, CA
ABV: 12.5%
THIS PRODUCT IS AVAILABLE FOR IN STORE PICKUP ONLY--CANNOT BE SHIPPED.