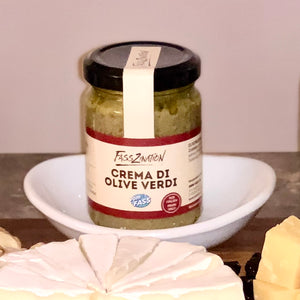 Olive Cream with Green Olives
This delicious olive cream is made in Italy and can be used in many ways. Enjoy over roasted ciabatta or baguette or add to meat or vegetables. It can also be used as a pasta sauce.

Ingredients: Seedless green olives (95%), extra virgin olive oil (5%), salt, citric acid.  
Vegetarian, Produced without gluten containing ingredients*In spite of careful control, we cannot guarantee that our products made without gluten-containing ingredients have not come into contact with wheat during the production process.