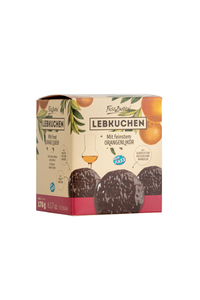 Lebkuchen Chocolate Almond Orange Liqueur Cookies
A honey-sweetened German cake molded cookie that has become part of Germany's Christmas traditions, Lebkuchen is a must-have holiday treat. It's been around in Europe for centuries. Our lebkuchen is made with our very own Orange Liqueur, marzipan, nuts, almonds and more tasty flavors.
Ingredients: Sugar, WHOLE WHEAT flour 16%, orange liqueur 14%, CHICKEN Egg white, candied fruit (orange peel, glucose fructose syrup, lemon peel, sugar, citrate lemon peel, acidulant: Citric acid), roasted ALMOND, baking wafer (WHEAT flour, potato starch), marzipan 4% (ALMOND, sugar, water, invert sugar syrup), fruit preparation (glucose-fructose syrup, apples, apricots, sugar, acidulant: Citric acid, gelling agent: pectin), WHOLE CHICKEN EGG, caramel sugar syrup (glucose syrup, sugar), roasted HAZELNUTS, sweet LUPIN flour, honey, glucose, roasted WALNUTS, OAT bran, gingerbread spices, thickener: guar gum, salt. CHOCOLATE INGREDIENTS: sugar, cocoa mass, cocoa butter, emulsifier: SOYAlecithins, natural vanilla extract. May contain traces of MILK.
WT: 175g