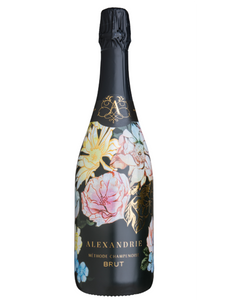 Alexandrie Brut
*This item available for pickup only*
This beautifully bottled and charming brut sparkling wine jumps out of the glass with aromas of apple meringue, fresh cut apricots and green figs. This primary character evolves to aromatic notes of Asian pear cider wrapped in yeasty bread dough. Flavors of cantaloupe, baked apple tart and ground nutmeg are perfectly balanced by the bright character of ripe clementine tangerine, Meyer lemon and Key lime and finishing with a generous linger of toasty brioche and lively mineral acidity.
This Brut is produced using the traditional Méthode Champenoise in which a second fermentation takes place naturally in the bottle to produce carbon dioxide. The carbon dioxide, and resulting pressure, is conserved in the bottle with its natural effervescence bringing tiny pops of pleasure to the palate.
Origin: Napa, California 
ABV: 12.%
*This product is available for store pickup only, not available for shipping.